---
Best Light Cabinet and Dark Granite Kitchen Color Schemes
Mixing white kitchen cabinets with dark granite
Check out these custom white and black kitchens, in photos of recently-constructed Raleigh new homes. Each kitchen has white cabinets, black granite counters, and elements of gray, brown, or beige.
---
White Kitchen Design #1: Espresso Cabinets, White Island, Black Granite

When mixing dark and light kitchen counters and cabinets, it's all about creating balance.
Kitchens with espresso cabinets along the perimeter walls generally require larger layouts, lots of windows, or other light colors (in the white island cabinets, tile backsplash, lighting fixtures) to off-set the dark stain and open up the room.
The white island cabinets open on the range / cooktop side, for easy reach storage.
White Kitchen Design #2: Wood Tone Island, Black Granite, White Cabinets
This two tone kitchen has black granite on the island and perimeter walls. The brick tile backsplash runs to the ceiling along the cooktop wall.

White Kitchen Design #3: Gray Island, Black Granite, White Cabinets
This gray, black, and white kitchen is an example of black granite for the island, and white granite with the white perimeter cabinets.
White Kitchen Design #4: Gray Island with White Granite
This kitchen also uses black and white counter tops, in the opposite order. A white granite island is at the center of black perimeter counter tops. The red sink faucet, pendant lights, and windows are contemporary style finishes.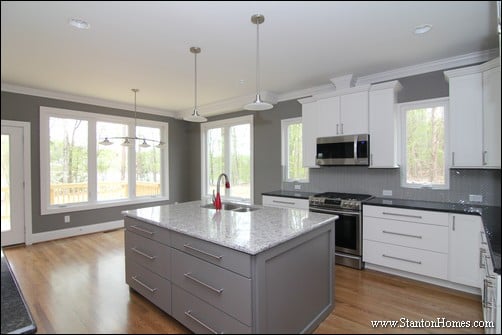 White Kitchen Design #5: Grey and Silver Tones
The mixed, linear mosaic tile backsplash brings together black, white, and gray tones. The cabinets are white, with black granite countertops.
This kitchen is a great example of a cabinet alternative to the stainless steel range hood:
White Kitchen Design #6: Single Wall White Kitchen
Inside this kitchen, the perimeter cabinets, brick tile backsplash, and island top are all white. The gray island uses a white granite top for the full two-tone look. (Check out the herringbone tile backsplash above the gas range.)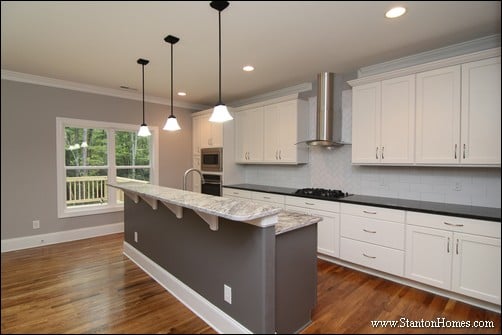 White Kitchen Design #7: Two Color Kitchen with Brown and White Cabinets
While many kitchens pair a gray island with alternating black and white counters, this kitchen uses brown cabinets with white granite. The rest of the kitchen uses white cabinets and black granite. There is an additional counter top in the pantry of this kitchen (behind the door pictured).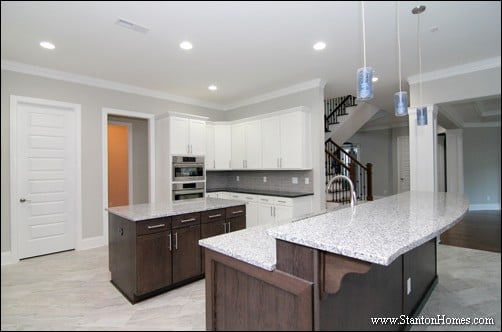 White Kitchen Design #8: Black and White Farmhouse Kitchen
Here's a photo of a classic white farmhouse sink paired with black granite counter tops and white cabinets.
Get more ideas for two-tone kitchens that mix cabinet colors and finishes, here.
Can I mix a bronze faucet with stainless steel sink? See how - here.
What is the standard height for kitchen counter tops and raised island bars?
Is a walk in pantry or built in cabinet better for my kitchen storage?
---
Raleigh New Homes:
What Raleigh new home floor plan elements are most important to you? Tell us what you're looking for, and we'll show you how to build it - with recommendations for floor plan features and selections that fit your budget.
---