Tips for Building or Remodeling an Accessible Home
Hallway and Doorway Requirements for Accessible Homes
What does it take to make sure a new home plan will have wide enough hallways and doorways for a wheelchair or mobility device?
This is a great question to ask before you even choose the floor plan for your new accessible home.
Some home buyers ask this question because a family member needs wheelchair accessibility. Some are buying their retirement home and want to include some Universal Design features, like wider doorways that will be able to accommodate a scooter or wheelchair in the years ahead should it ever be needed. And some are just looking at higher resale value.

We'll send you accessible house plan ideas - just tell us what you're looking for:
Minimum Hallway and Doorway Width Requirements for Accessible Homes
Both ADA requirements and Specially Adapted Housing Minimum Property Requirements specify a minimum hallway width of 48", with a minimum doorway width of 36".
Standard doorways in a new home are usually either 2'4", 2'6" or 2'8" wide, and according to North Carolina building code, the minimum width of a hallway is 36".
How wide should the doorways and hallways be in your home?
The width you need depends on the kind of access you're looking for.
Minimum clear width for a wheelchair is 36 inches for a hall and 32 inches for a door.

Minimum clear space for a T-shaped turn of 180 degrees is 36 inches in all directions.

Minimum passage width for one wheelchair and one ambulatory person is 48 inches.
Many mobility scooters are as narrow as 21".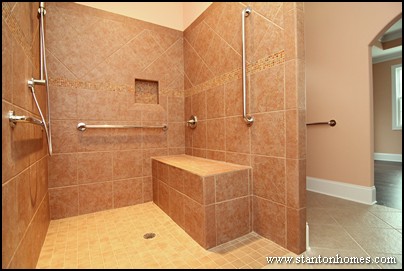 Other Doorway Width Options for New Homes:
If you simply want wider doorways, but are not as concerned about having a 48" wide hallway, there may be some options that don't require significant structural changes.
And it's MUCH less expensive to plan for wider doorways before construction starts than to try to retrofit hallways and doorways later.
A 3'2" wide hallway will allow a 36" door, but there will be no room for trim - this isn't ideal.

A 3'8" width works well for a 36" door, and allows 2 1/4" trim, or casing, around the doorway.

A 3'10" width is ideal for a 36" door, as it allows 3 1/4" casing around the doorway.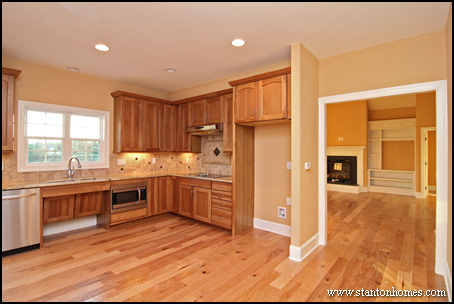 However, if you are planning to build with a Specially Adapted Housing Grant for Veterans, you are required to include 48" hallways. Not only that, there must be enough space to "allow for maneuverability through the hall and into all rooms, including bedrooms, bathrooms, and ingress/egress routes".
Here's an example of a portion of a floor plan that does not currently meet accessible requirements, but can be adapted.
This hallway is currently 3'4" wide, which won't accommodate a larger door - and the powder room is too narrow for a wheelchair to enter.
How Can Hallways and Doorways Be Widened, and When Should Design Changes Be Made?
In most cases, wider hallways means adding more square footage to the home, but we are usually able to make these additions at a very minimum cost.
Here we would need to expand both the hallway and the powder room itself - which is a possibility in this case, as the upper wall is an exterior wall.
Each plan is different. The fewer changes that need to be made to the plan, the more cost effective those changes will be.
At Stanton Homes, we are able to make almost all changes using our design team, which can reduce the cost of making a new home wheelchair accessible.
Ask your builder if they can make your new home wheelchair accessible, or if changing doors to a 36" width is a possibility. Or bring us any plans that you're considering, and we'll be happy to recommend which would work best and what changes might be required.
Find Out More About Universal Design and Accessible Homes
Stanton Homes is an industry leading accessible, universal, certified Aging in Place and VA-approved Specially Adapted Housing custom home builder. We can help you get started looking for an accessible home in North Carolina.
Accessible floor plans can feature wider hallways and doorways, space for a wheelchair turning radius, non-slip flooring, ramps, and walkways, special lighting, roll out or pull out shelving, easy grope doors, faucets, and drawers, accessible switches, no step entries, roll-in showers, ADA roll-under counter tops and work spaces, and many other specialty features.
Click for Wheelchair Accessible Bath Photos.