---
What is the best color for a Farmhouse Exterior?
Which exterior paint color are the most traditional for a farmhouse? Which are more popular in Raleigh new homes? See photos of white, yellow, red, gray, and beige farmhouse exteriors below.
---
Brick Farmhouse Exterior with Wrap Around Front Porch

Two story farmhouse floor plans are built for family and friends to gather - with a spacious kitchen, open great room with cozy fireplace, and dining area large enough for a long farmhouse table. This Raleigh new home, a version of the Daniel, has an old-fashioned sense of home with a lot of modern updates.
See interior farmhouse photos of these farmhouse floor plan elements
Two island kitchen (one center island, one wall island with an eating bar in the great room)
Two-sided stone fireplace shared between the great room and backyard screen porch
Home theater and pocket office work play and work side-by-side
Walk-through shower with two entries
Mudroom style laundry with built in sink
Second story deck
Detached garage connected with a walkway - and living space above the garage
White Farmhouse Exterior with Dormers
From the white apron sink in the island kitchen to the light blue master bath with cantilever tub, this first floor master suite home speaks to a classic farmhouse style.
See interior photos and get the floor plan for this white country farmhouse, here.
Interior farmhouse photos include:
Kitchen open to the great room with wainscoting columns and built ins designed to fit a piano
Home office in place of original formal dining room plan
1st floor master bedroom
Buddy bath upstairs for the kids to share
Huge mudroom with cabinets, sink, counter tops, and kids art area
Yellow Farmhouse Exterior with Red Front Door
This yellow farmhouse exterior stands out, with double window dormers, a rocking chair front porch, black shutters, and sunburst window above the red front door.
Farmhouse floor plan ideas:

Yellow painted walls with windows in each room (in addition to sun room off the kitchen)

Interior glass French doors
Side entry garage (to make room for the front porch)
White kitchen appliances to match the white cabinets
Built in entertainment center / bookcase in living room
Yellow Farmhouse Exterior with Red Metal Roof
It's hard to find a more traditional look than a yellow farmhouse with red metal roof.
Reminicent of a barn, this Raleigh farmhouse style home is fully wheelchair accessible - from the concrete path that leads from the front patio to the backyard to the kitchen, bathrooms, hallways, and living areas.
See a photo gallery of this yellow farmhouse (and get a floor plan layout) - click here.
Interior photos include an island kitchen, rustic "pantry" glass door, dining room nook, barrel vault hallway, and wheelchair accessible bathrooms with roll-under cabinets and zero threashold showers.
Red Farmhouse Exterior on a French Country Home with Stone Front Accents
What's the difference between "American" and French Country farmhouse designs? The nonsymmetrical curved roofline, strong red siding color, steep pitch roof, small pane windows, and stone accents are French Country exterior design elements.
See a photo gallery of this red French country farmhouse, here.
Interior Farmhouse Photos include:
Basement level with game room and bath
Master suite with private exercise room
Separate kitchen / breakfast nook
Pocket office, butler's pantry
Two sided living room fireplace
Sand and Brown Farmhouse Exterior with Three-Sided Wrap Around Front Porch
The vaulted great room opens to the island kitchen, breakfast nook, and formal dining. A first floor master suite has an elegant trey ceiling, his and hers walk in closet. The island kitchen also offers a "Costco size" walk in pantry, with mud room style laundry around the corner.
See interior photos of this traditional farmhouse, here.
Gray Farmhouse Exterior with Three-Sided Wrap Around Front Porch
This Farmhouse plan has a traditional feel inside and out with a main floor master suite, large kitchen island open to the great room, separate dining and breakfast rooms, and three kid's bedrooms upstairs with a small loft overlook to the two story great room. The front porch wraps around three sides of the home, with a separate covered patio in the backyard. The "Costco" style pantry is large enough for long-term storage of canned goods grown on the acreage farmland where this home sits outside of Raleigh, NC.
See interior photos of this traditional farmhouse, here.
Compare these two farmhouses, side-by-side, and see what a difference your paint, cabinet, and fixture selections can make in the SAME farmhouse house plan (a Max Fulbright design):
What color would you pick for your farmhouse? Vote here!
survey services
Farmhouse House Plans:
These farmhouse house plans are great examples for how to build a home designed around country living in North Carolina. You'll find farmhouse plans with:
Outdoor living space: front porches, side porches, patios, screen porches
Dormers in upstairs bedrooms, game rooms, and/or bonus rooms
Wheelchair accessible kitchens, bathrooms, and living areas
Red metal roofing, stone and brick siding
Side entry garages (that help emphasize the large fronts of farmhouse designs)
Color combinations that Joanna Gains would be proud of
---

Do you want to live in a Raleigh Farmhouse style home?
Send us the name of a floor plan that is close to what you want, and we can help you to modify the floor plan layout to give you a farmhouse that fits your wish list:
Create special features, like mother in law suites or accessibility.
Redesign the exterior. Or the kitchen. Or the master suite. Or just about anything.
Add customization to every area of the home
Get our top 10 first floor master house plans, here.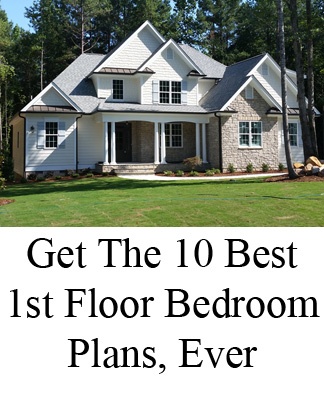 ---